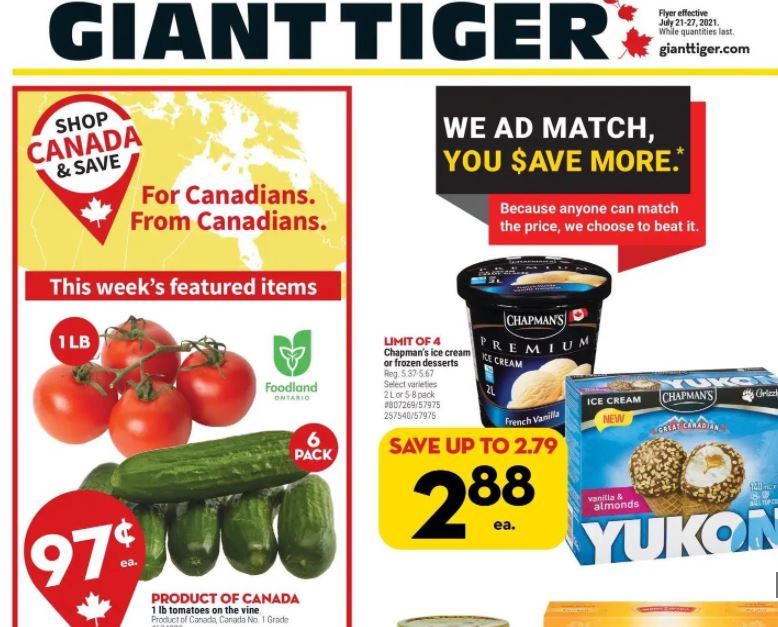 Giant Tiger Canada never fails to have some great prices on advertised items week after week, and as an added bonus they continue to price match their competitors. Here is a list of items you will find on sale at Giant Tiger until July the 27th:
1lb Tomatoes On The Vine .97
6pk of Mini Cucumbers .97
5oz Baby Spinach or Spring Mix $1.97
2pk Green Peppers $1.97
227g Sliced White Mushrooms $1.97
Giant Value Bread or Buns $1 (limit is 6 and keep in mind that the buns are a bag of 12, which is a great price!)
Iogo Yogurt 750g or 12-16pk $3.97
Chapman's Premium Cream or Yukon Novelties $2.88 (if you use your $4 coupon you might want to grab two and pay the difference as it's still a great deal!)
Classico Pasta Sauce $1.88
Wong Wing Appetizers $3.99
Trophy Almonds or Mixed Nuts $2.97
San Danielle Deli Meat or Notre Dame or Anco Cheese $3.97
Brandt Kolbassa Sausage $3.97
Kraft BBQ Sauce .99
Little Debbie Snack Cakes $1.77
Click here to view all of the deals in the latest flyer.