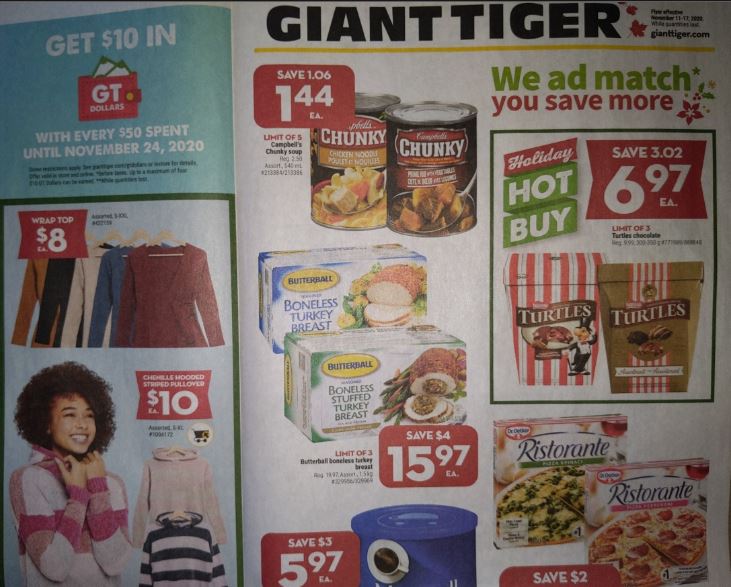 A new Giant Tiger flyer starts today, and here are some of deals and prices that are valid until Tuesday of next week:
Campbell's Chunky Soup $1.44
Turtles Chocolates $6.97
Dr Oetker Ristorante Pizza $2.98
Wong Wing Entrees $3.99
D'Italiano Bread or Buns $1.88
Lactantia Creams $1.97
Black Diamond Shredded Cheese $4.97
Eggo Waffles $2.97
Bisquick Mix $1.99 (GT VIP Price)
Butterball Boneless Turkey Breast $15.97
Maxwell House Coffee $5.97
5 Pack Avocados $2.47
Leclerc Celebrati0n Cookies $1.99
Bugles $1.99
Trophy Almonds or Mixed Nuts $2.99
Dole Bagged Salad $1.47
Celery $1.47
Swanson Meat Pies 99 cents
Classico Pasta Sauce $1.97
Lactantia Cream $1.97
You will also get $10 on GT dollars for every $50 that you spend. I'm not sure what the details are because I don't see this blurb in my local flyer and can't enlarge it, but see your local flyer or store for further details of this offer.
Click here to view the Giant Tiger flyer for this week on our forum.