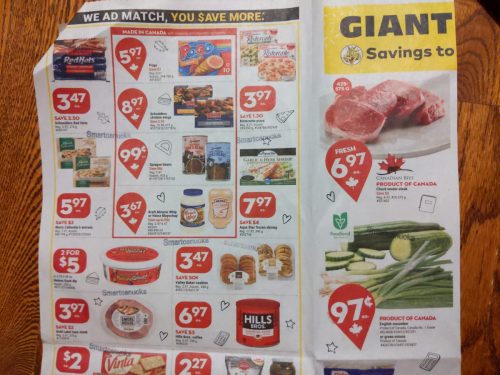 We have a sneak peek of the Giant Tiger Canada flyer that starts tomorrow, August the 17th, and you can click the link below to see this flyer on our forum. Remember that this flyer is valid until Tuesday of next week, when most flyers end on Wednesday. Giant Tiger also price matches, so in addition to offering some great prices, you might also be able to save yourself a trip or two to other stores. Here are some of the advertised items that start tomorrow:
Schneiders Red Hots $3.47
POGO 1-pk $5.47
Dr. Oekter Ristorante Pizza $3.97
Schneiders Chicken Wings $8.97
Kraft Miracle Whip or Heinz Mayochup $3.67
Heluvagood Dip 2/$5
English Cucumber or Green Onions .97
Hills Bros Coffee $6.97
Del Monte Canned Fruit or Applesnax $1.67
Chapman's Collection $3.47
Chapman's Original Ice Cream $2.47
Bear Paws or Viva Puffs Cookies $1.88
Maxwell House Coffee or Celestial Tea $2.88
Country Harvest Bread $2.27
Piller's Meat Sticks $6.97
Heinz Ketchup $3.97
Ocean Spray Cranberry Cocktail or V8 $2.88
Click here to view the flyer on our forum.