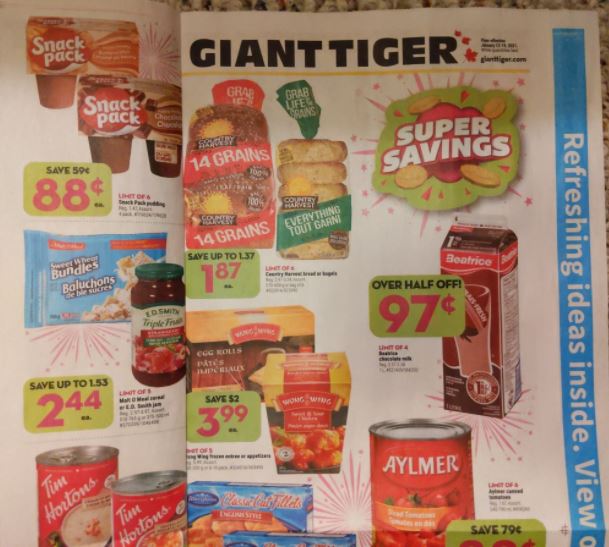 A new Giant Tiger Canada begins tomorrow, and here is a sneak peek at the advertised sale items for the week of January the 13th to the 19th. Don't forget that Giant Tiger continues to price match, so if there was anything on sale at a local competitor that you wanted to pick up, you might not have to make an extra trip if it's an item that Giant Tiger carries. Here is what is on sale starting tomorrow:
Hunt's Snack Pack 88 cents
Country Harvest Bread or Bagels $1.87
Beatrice Chocolate Milk 97 cents
ED Smith Triple Fruits Jam $2.44
Wong Wing Frozen Products $3.99
Aylmer Canned Tomatoes 88 cents
Tim Hortons Soup $2.49
Activia 8 pack or Oikos 4 pack $3.33
Voortman Wafers 99 cents
2L Pepsi Products 99 cents
Tostitos $1.99
Oasis Juices $2.97
Celebration Cookies $1.79
Dole Bagged Salads $1.47
Old El Paso Kits or Salsa $2.97
Nature Valley Bars or Betty Crocker Fruit Snacks $1.88
Hostess Snack Cakes $1.97
3lbs Sunkist Oranges $2.88
2lbs Sunkist Lemons $2.88
Click here to view the flyer on our forum.