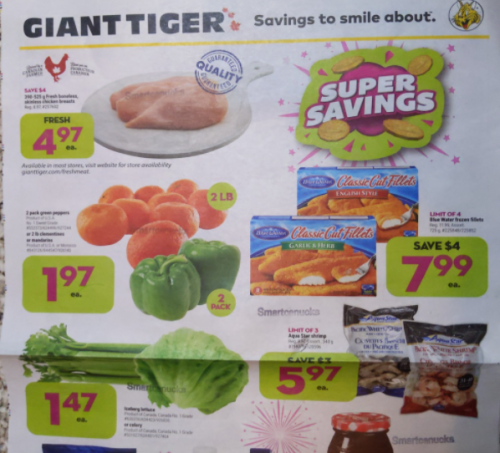 A new Giant Tiger Canada flyer starts tomorrow, and you can preview it on our forum by clicking the link below. These offers are valid until 1st of February, and if you do head to Giant Tiger don't forget that you are still able to price match their local competitors. Here are some of the advertised items that are on sale beginning tomorrow:
Bluewater Fish $7.99
Two Pack Green Peppers $1.97
Two Pounds Tomatoes $1.97
Celery $1.47
Iceberg Lettuce $1.47
Ruffles $2 (use the 50 cents printable coupon from Tasty Rewards and pay $1.50!)
Diana Sauce or Kraft Salad Dressing 2/$5
Smuckers Jam 2/$4
Clover Leaf Flaked Light Tuna .97
Cavendish Premium Fries or Breakfast Potatoes $2.47
Stouffer's Frozen Entrees or Bistro Express $2.47
Belmont Frozen Burgers $7.97
Spalding Bacon $2.97
Leadbetter's Bacon or Johnsonville Breakfast Sausage $4.97
Giant Value Bread or Buns $1.77
Black Diamond Cheese Bars $4.44
Coffeemate $3.47
Aylmer Canned Tomatoes $1.25
Planter's Peanut Butter $3.97
Click here to view the flyer on our forum.