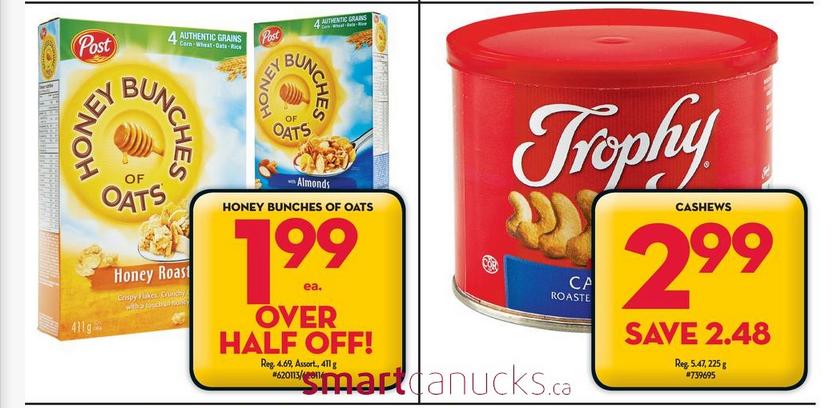 The Giant Tiger Canada flyer that begins today has some great deals as always, including a freebie with coupon if you still have it. Post Honey Bunches of Oats cereal is on for $1.99 this week, which if over half off the regular price. Those printable coupons for $2 off the Apple Cinnamon variety have not been available for quite some time, but for those with coupons left, they do expire on the 31st of January, so your are going to want to use those up! If Giant Tiger does not carry the Apple Cinnamon variety there are many places you can price match that do have it.
Some other great deals this week as are follows:
Wonder Bread d$1.88 (Use your coupon for $1 off when you buy 2)
Black Diamond Cheese $4.44
Maple Leaf Flakes Of Ham .99
Maple Leaf Meat Pies .88
Heinz Ketchup $2.99 (use your printable coupon for 50 cents off)
3lbs of Seedless Oranges or Red Grapefruit $2.47
Lactantia Cream $1
Trophy Cashews $2.99
Johnsonville Smoked Sausage $3 (use your $2 mail out coupons)
Click here to view the Giant Tiger Canada flyer valid January the 18th to the 24th.