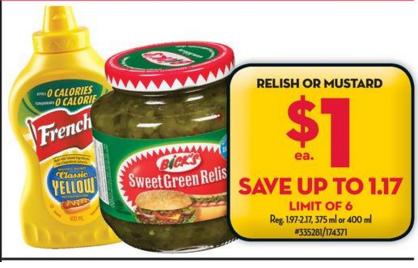 This week until April the 25th, Giant Tiger Canada has French's Mustard 400ml on sale for $1. If you recall, a while back there was an insert with a coupon for $1 off the purchase of any French's mustard. Use that coupon with this sale and pick up some free mustard this week.
If you like the flavoured mustard you may want to price match this deal at a store with more selection, like Walmart, or Real Canadian Superstore. Also, if you don't happen to have this $1 insert coupon, there is another option. Bick's products in some stores have a hang tag booklet around the neck, and they contain a coupon for 50 cents off French's mustard, in addition to a coupon for 50 cents off any Bick's products. If you happen to spot those coupons you can get the French's mustard for 50 cents, and you could pick up the relish that is also on sale for 50 cents.
Click here to view this offer in the Giant Tiger flyer.