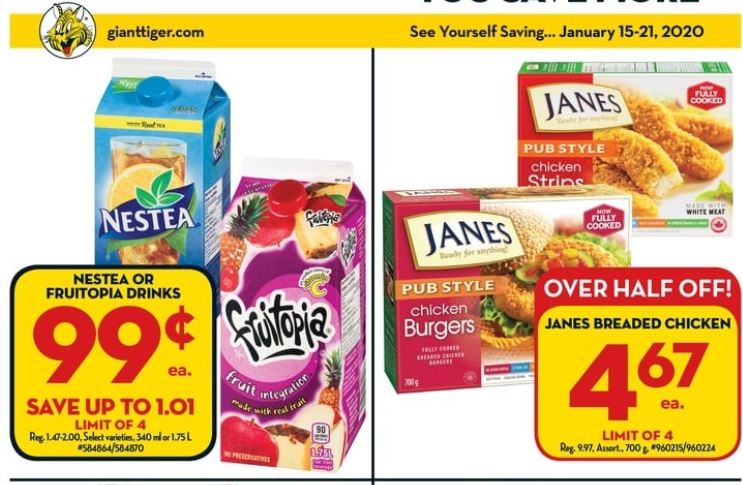 This week, Giant Tiger Canada has Janes Pub Style breaded chicken products on sale for $4.67, which is a great price if you have them on your shopping list. This price is for the 700g boxes, and there is a limit of 4 per person. There are several other good deals at Giant Tiger this week, and here are some of the highlights:
General Mills Cereal $1.97
Boneless Skinless Chicken Breasts 450g $3.97
Beyond Meat Burgers $3
3lb Seedless Oranges $3.88
2lbs Lemons $2.88
Dole Fruit Cups $1.88
Dole Coleslaw or Garden Salad .97
Mini Carrots .97
Celery $1.47
227g Mushrooms $1.47
Dare Lunch Snacks $1.88
Nestea or Fruitopia Drinks .99
Levitt's Smoked Meat $8.97
Voortman Wafers .99
Lay's Chips 3/$5
Giant Value Flour or Unico Oil $2.88
Eggo Waffles or Pancakes $2.47
Quaker Granola Bars $1.88
Melitta Ground Coffee Tins $8.97
Don't forget that because the Giant Tiger flyer starts on a Wednesday, that these prices are only valid until Tuesday of next week.
Click here to view the Giant Tiger flyer valid until the 21st of January.