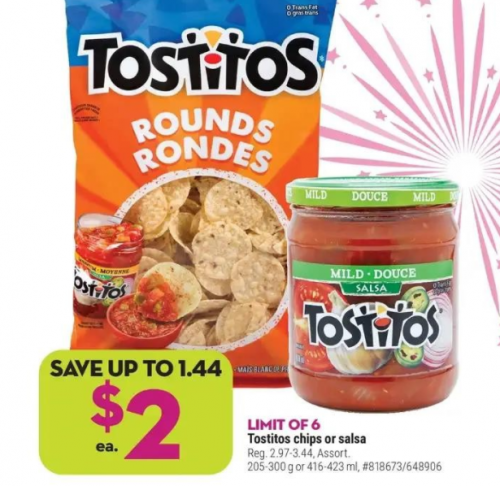 This week at Giant Tiger Canada you can pick up a bag of Tostitos chips and a jar of Tostitos salsa for a total of $2.50 with this great deal!
Until Tuesday, Giant Tiger Canada has both Tostitos chips and salsa on sale for just $2 each. If you head over to the Tasty Rewards coupon portal by clicking the link below, you will find a coupon there for $1.50 off when you purchase both the chips and the salsa. After the coupon you will pay just $1.25 each for a total of $2.50.
There is a limit of six on these items so you can stock up somewhat. You can only print one coupon per Tasty Rewards account however, so make sure you have an account for each member of your household if you plan to print more than one.
Click here to view this offer in the Giant Tiger flyer.
Click here to print your Tostitos coupon through Tasty Rewards.