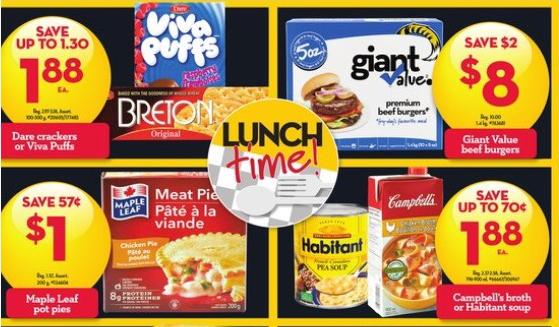 The Giant Tiger flyer that starts to day has some greats deals that are valid week long, so you may want to take note of some of these and pay them a visit this week, or price match the ad elsewhere.
It's almost last call for those Maple Leaf booklet coupons and here is a way to use up some of those buy three get one coupons. You can get a free package of Ready Crisp bacon when you purchase any three Schneiders or Maple Leaf products. This week the Maple Leaf meat pies are on sale for $1. Purchase three of them and get a free package of the Ready Crisp bacon. You can also get free stuffed chicken with the coupon, but Giant Tiger does not carry the product. If you are able to find somewhere that prices matches and sells both of these products you can get the chicken free.
Other great deals this week include Cavendish Flavour Crisp fries for $1.99. If you have the $1 coupon from the BBQ booklet attached to the Royale paper towels you can get these for 99 cents. Scrubbing Bubbles and Windex products are 2 for $6, so with coupons and cash back apps these could make for a really great deal.
Click here to view the Giant Tiger Ontario flyer, valid June the 15th to the 21st.