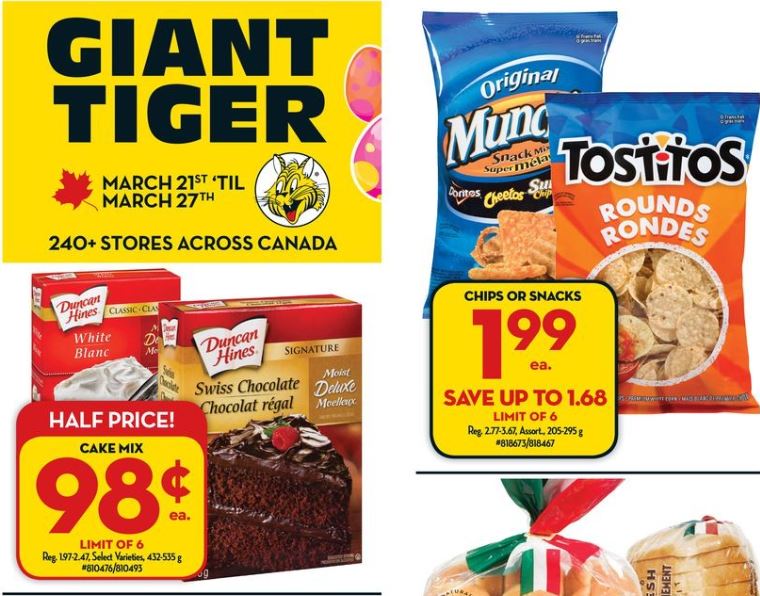 Giant Tiger Canada never disappoints when it comes to having some great prices on items week after week. If you have one local to you of course you can just stop in to a Giant Tiger location, but if you don't, then perhaps there are some items from this ad that you can price match elsewhere. Here is a roundup of some of the great deals this week at Giant Tiger Canada in the flyer valid until the 27th of March:
Duncan Hines Cake Mix .98
Tostitos $1.99
Chocolate Eggs 150g $1
D'Italiano Bread or Buns $2
Solid Chocolate Bunnies 2/$5
Tropicana Juice $3.33
Kinder or Ferrero Large Easter Eggs $7.98
Kellogg's Cereal $2.88
Delissio Thin Crust Pizza $2.98
Black Forest Ham $4.97
Nature Valley Bars or Betty Crocker Fruit Snacks $1.67
Heinz Tomato Juice .99
Billy Bee or Planters Peanuts $1.99
Europe's Best Frozen Fruit $2.98
Vlasic Pickles $2.27
4pk Rainbow Peppers, 6pk Mini Cucumbers, or 6 pk Hothouse Tomatoes $2.47
Betty Crocker Instant Potatoes or Hamburger Helper $1.50
12pk Pepsi Drinks $3.97
Sour Cream or Dip $1
Folgers Ground Coffee $7.97
Uncle Ben's Bistro Express Rice 3/$7
Roman Lasagna $5
Campbell's Broth $1.47
Brandt Sausage $2.50
Flamingo Breaded Chicken $4.98
Bluewater Frozen Fish $5.99
Giant Value Canned Mushrooms .77
Brandt Deli Meat $2.50
Swift Canned Ham $3.97
Frozen Shrimp or Tempura $5
Scrubbing Bubbles $3.47
Breton Crackers $1.97
Click here to view the complete flyer on our forum.