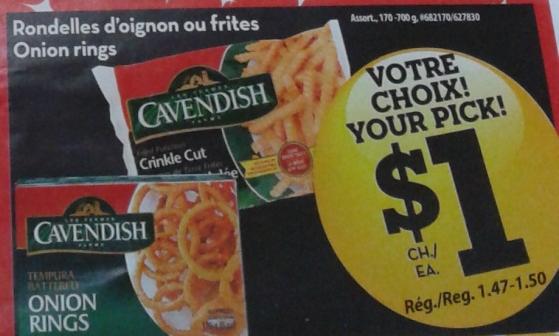 This week in Ontario, you can get select Cavendish items from Food Basics for free if you have the $1 tear pad coupon. Quebec residents, if you want to use up those coupons before they expire on the 31st of October, then you can head to Giant Tiger armed with those coupons. Beginning Wednesday, October the 29th, Giant Tiger Quebec has Cavendish Crinkle Cut Fries or Onion Rings, 170-700g, on sale for only $$1. Use your $1 tear pad coupon and get them free.
This is from the Quebec flyer, however, we can probably expect the same price here in Ontario beginning Wednesday. So if you were planning to use your coupons up on the sale at Food Basics you may want to hold off and use them at Giant Tiger. The items on sale at Food Basics were quite small and this may be a better use of those coupons!
If you do not have any $1 Cavendish tear pad coupons, you may print a coupon from our SmartSource coupon portal for $1.50 off when you purchase two Cavendish products, and get each product for 25 cents. Still a great deal!
Click here to view the Giant Tiger Quebec flyer.
Click here to print the Cavendish coupon from the SmartCanucks SmartSource printable coupon portal.