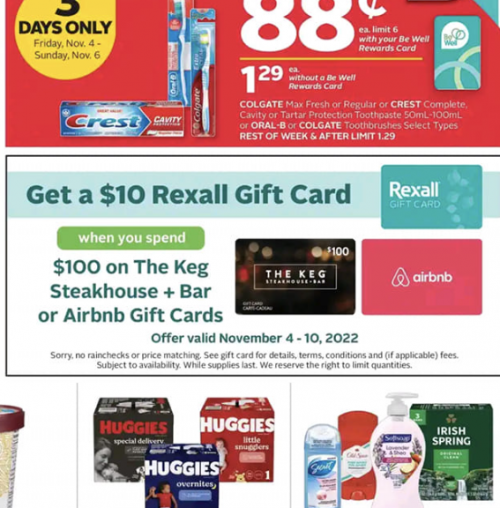 It's a great time of year for buying gift cards, with several retailers offering bonus points and bonus gift cards for your purchase. Here is a run-down of a few advertised offers for gift cards in the flyers this week. You can click the links below to view these offers in the respective flyers.
Get a $10 Rexall gift card when you spend $100 on The Keg Steakhouse + Bar or Airbnb gift cards (offer valid November 4th – 10th)
Get 10,000 PC Optimum points for every $100 spent on Airbnb, Doordash, H&M, and Sony gift cards. Offer is valid from November the 5th to the 11th, and it will take approximately 2-4 weeks for the points to be posted to your PC Optimum account. They will not appear on your receipt but keep it handy in the event that you have to contact customer service.
Collect $15 CT Money for every $100 spent on PlayStation and Ultimate Dining gift cards. Offer is valid from November the 4th to the 10th. Gift cards cannot be purchased using CT Money, and the points for your purchase will be posted to your Triangle Rewards account in approximately 2 weeks.