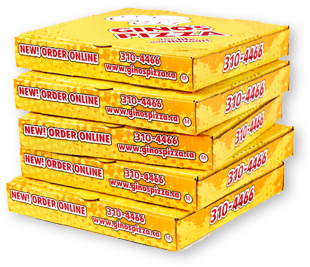 Here is an offer from Gino's Pizza and Sears Canada. Until November the 8th, 2015, make any purchase at Gino's Pizza Canada, and with your order you will receive a Sears Canada savings card. The Sears savings card is for $10 off when you spend $25 or more at any Sears Canada location, or from Sears.ca. Your $25 purchase must be made before November the 12th, 2015.
Not a bad offer considering you only have to spend $5 to receive the savings card. If you are planning on ordering pizza for your Halloween party this weekend, Gino's has several offers going on. There is a walk in special of one extra large one topping pizza and one free dipping sauce for $9.99, or a party pizza tray with one free dipping sauce for $19.99. If you need to feed a bigger crowd, there is the Really Big Deal, which includes two pizzas with three toppings on each, 14 wings, 4 bottles of pop, 6 garlic breadsticks, and two free dipping sauces. This offer with medium pizzas is $39.99, $43.99 with large pizzas, or $47.99 with extra large pizzas.
Click here to find a Gino's Pizza Canada location near you. ​