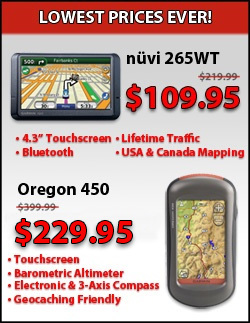 Some pretty hot deals on Garmin GPS and some other products from GPSCity.ca (based in Calgary). Unfortunately thanks to the new HST in Ontario and BC (and of course those in the east who already had the HST), we can no longer just get 5% GST on ordering out of province. But still, some good deals when not long ago I bought an Oregon 450T for I believe $430 or $450!
The emailed deals are:
Garmin nuvi 265WT for $109.95 (save $90)
Garmin nuvi 1490LMT for $179.95 (save $90) – includes free lifetime map updates, traffic and a 5″ screen
Garmin nuvi 1450LMT for $149.95 (save $120) – includes free lifetime map updates
Oregon 450 for $229.95 (save $130)
15% off all RAM mounts with coupon code GCBF10RAM! (include the !)
Check out all the details here.