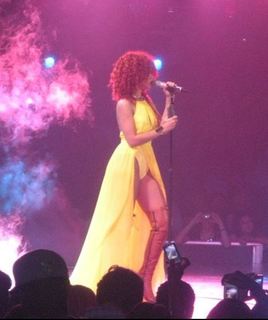 On June 3rd I logged into Groupon for my daily deal and saw that under Toronto they were offering sets of Rihanna tickets, 2 for $75! Rihanna's team had overshot and had hastily booked a second show months ago, but the fan response wasn't there.  I bought 2 right away, knowing that I had the potential at scoring good seats.
The deal sold out quick.  Then people started commenting  that the tickets were not a good deal and you could get mega nosebleeds for cheaper then $75 for two. BUT I knew that even though it stated 300's they would be good three hundreds or other seats that had not sold.  It was first come first serve.  People started panicking and having their Groupon refunded, so I actually had the opportunity to buy another set, which I did.
We arrived at the ACC around 6:30 and went to the ticket booth. I was handed 4 tickets for section 110 in the first three rows left side stage.  Not only were they great seats right behind the "vip" area but we spotted other celebs such as Karinal Offishall up close and personal!
I feel bad for the people who jumped the gun and lost out on amazing seats that were a premium price. (Or do I?) Remember the saying "If it seems to good to be true it probably is" doesn't ALWAYS apply.
Pic provided kindly by Anna who sat next to me.