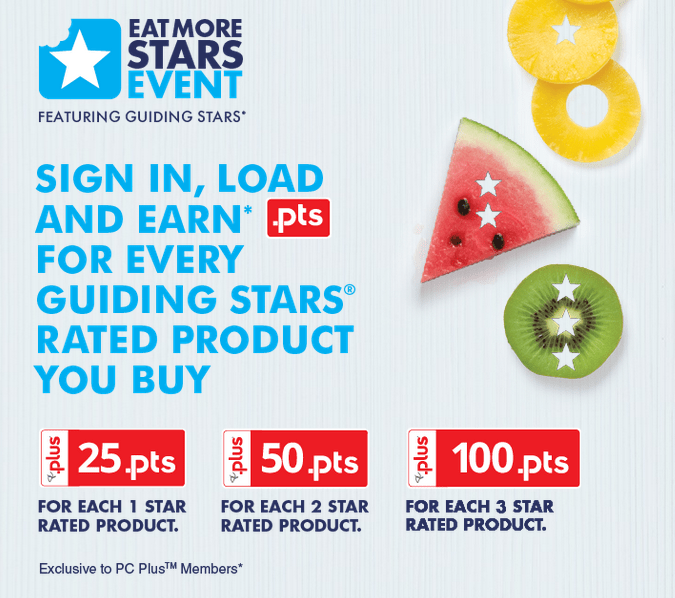 As we mentioned the other day, the popular Guiding Stars offers are back this month to help those of us who have healthy eating resolutions to stay on track and earn points.  As with the Guiding Stars offer for this week, you will be able to load an additional bonus points coupon for 1000 PC Plus points just by logging in to Guiding Stars.
You will earn 25 PC Plus points for each 1 star product, 50 for each 2 star product and 100 for each 3 star product bought.  You will not see these points on your receipt, but they will be added to your account about 2 weeks later.  Starred points include everything from produce to regular items in the store, but most 3 star products are in the produce aisles.
Click here to load your PC Plus Guiding Stars offer once it goes live on Thursday.  Once you load your smaller Guiding Star offer, you do need to hit load on the 1000 PC Plus offer to be eligible for that bonus.
Other bonus offers that will show as loadable from your PC Plus account or app include
3000 bonus PC Plus points for every $10 spent on Royale Velour
1500 bonus PC Plus points for every $5 spent on select Nestle candy
3000 bonus PC Plus points for every $10 spent on Tresemme and/or Axe
Click here to view the Real Canadian Superstore flyer for these offers