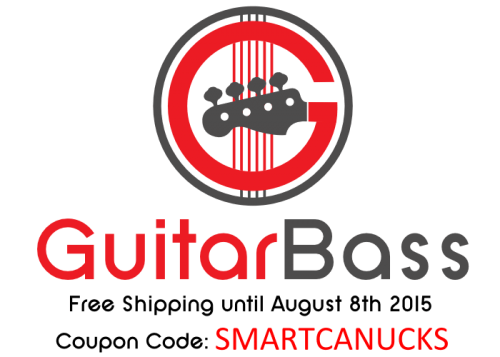 GuitarBass is here, and we're here for you! Looking to upgrade your guitar or bass? Is your sound just not what it used to be, or has a piece worn out? Go check out GuitarBass' stock, everything available to buy is currently in stock; no backorders!
GuitarBass are Canadian based, Canadian Proud, and all the prices are in Canadian dollars, because really, who wants to deal with that exchange rate right now? Let them handle the exchange and taxes, and you just lean back, relax, and make some awesome music.
Between now and August 8th, 2015, the first 50 orders will receive FREE Shipping* on the entire order. Hurry quick! No minimum required, simply use the code SMARTCANUCKS at checkout and receive free shipping for your order.
Don't forget to sign up to the GuitarBass mailing list for additional coupons throughout the year.
*(up to $100 of shipping fees)
Click here to start shopping at GuitarBass!