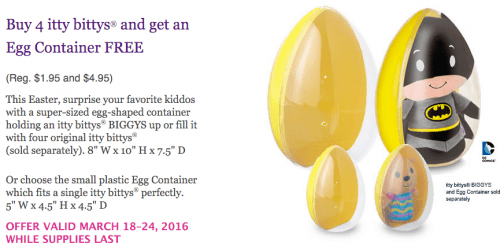 Get a free egg container when you purchase 4 itty bittys from Hallmark Canada! This Easter you can get your child a few itty bitty toys and hide them around the house inside their custom-fit egg containers! The egg containers have a value of $1.95 and $4.95. This coupon offer ends on March 24, 2016.
Super-sized egg container (fits four itty bittys or one itty bittys BIGGYS): 8″ W x 10″ H x 7.5″ D
Small egg container (fits one itty bittys): 5″ W x 4.5″ H x 4.5″ D
Click here to get this Hallmark Canada coupon.