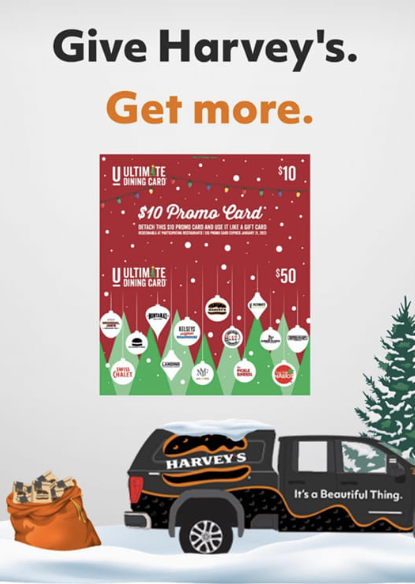 It's a great time of year to be buying gift cards as many of them come with perks like bonuses or points, and Harvey's Canada currently has an offer for you when you purchase a $50 Ultimate Dining gift card.
Visit a Harvey's Canada location and purchase the specially marked $50 Ultimate Dining Card pictured above, to receive a $10 promo card. The promo card can be redeemed throughout the month of January. Unlike the actual gift card, the promo card does have an expiry date, so make sure to use it before the date on the card. If you are gifting the card, make sure the recipient is aware that the promo card has an expiry date.
This specially marked gift card will be available until December the 31st, 2022, at Harvey's locations across Canada.
Click here to find a Harvey's Canada location near you.