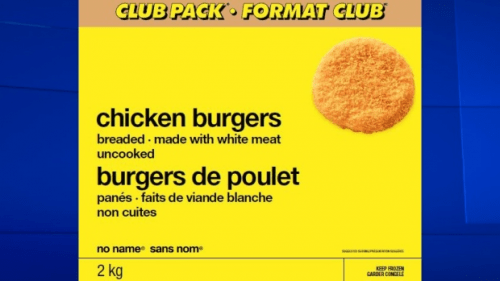 Last week, the Public Health Agency of Canada issued a notice regarding the risk of Salmonella in frozen uncooked breaded products. After an investigation, the Canadian Food Inspection Agency has now issued a recall on specific brands of frozen breaded chicken products after several people reported illnesses due to Salmonella poisoning.
The Canadian Food Inspection Agency says several lots of No Name and Compliments brand frozen uncooked chicken strips, burgers, and nuggets sold across the country are being recalled due to possible Salmonella. All the recalled products are made by Sofina Foods Inc.
The recalled products include:
No Name Chicken Burgers 2kg. Code: 2016 JA 22 EST 374 (UPC 0 60383 11695 8)
Compliments Chicken Strips 907g. Code: BB/MA 2016 JA 22 EST 374  (UPC 0 55742 33687 0)
Compliments Chicken Nuggets 907g. Code: BB/MA 2016 JA 22 EST 374 (UPC 0 55742 33688 7)
Loblaws is also recalling No Name chicken burgers sold in Atlantic Canada, Ontario and Quebec, also because of possible Salmonella contamination. The company says the items may be "unsafe to consume" due to concerns over the bacteria. There are no specifics given as to the codes of the products, but the products in question were sold prior to July 2, 2015 at the following locations:
Ontario

Fortinos
Loblaws
No Frills
Box by No Frills
Real Canadian Superstore
Valu-Mart
Your Independent Grocer
Zehrs
other affiliated independent stores

Atlantic Canada

Atlantic Superstore
Dominion
No Frills
Save Easy
Your Independent Grocer

Quebec

Loblaws
Maxi
Maxi & Cie
Provigo
Provigo le Marche
Intermarche
Whole Sale Club
other affiliated independent stores
Loblaws says the products have been removed from store shelves. Both Loblaws and Health Canada advise that if you have the affected product in your home that you do not consume it, and instead throw it out, or return it to the store you purchased it.
Food contaminated with Salmonella may not look or smell spoiled. Symptoms of a Salmonella infection start 6 to 72 hours after exposure to Salmonella bacteria from an infected animal or contaminated product and include vomiting, nausea, abdominal cramps, fever and diarrhea. Long-term complications may include severe arthritis. Salmonellosis can be deadly to young children, pregnant women, the elderly and people with weakened immune systems. Salmonella and other harmful bacterias can normally be killed through proper cooking. It's advised that you never microwave frozen meat products and instead follow the instructions on the packaging.
Click here to read more about this recall.