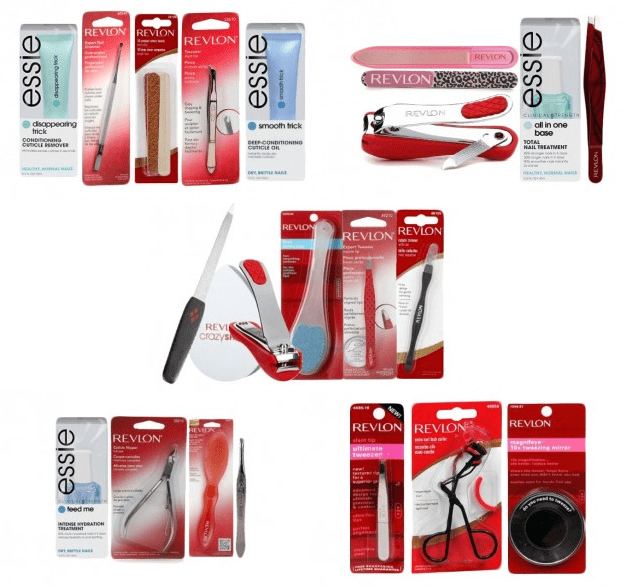 There is a new pickup special available from HealthSnap.ca.  Each of these bundles includes a selection of Essie and Revlon products to help with your beauty routine.  They are regularly priced at $40 each but will be reduced to $16 when you choose a pickup location in Ontario and enter coupon code BEAUTYKIT.
Manicure Bundle: Revlon Expert Nail Groomer, Essie Disappearing Trick Conditioning Cuticle Remover, Revlon Emery Boards, Essie Smooth Trick Cuticle Oil & Revlon Deluxe Slant Tip Tweezer
Pedicure Bundle: Revlon Crazy Shine Nail Buffer, Revlon Emery Nail File, Revlon What A Catch Toe Clipper, Revlon Cuticle Trimmer With Cap, Revlon Foot Smoother & Revlon Expert Tweezer
Mani/Pedi Bundle: Essie Feed Me Nail Treatment, Revlon Sugar Sensation Foot File,Revlon Cuticle Nippers & Revlon Compact Tweezer
Lash & Brow Bundle: Revlon Implements Ultimate Tweezer, Revlon Manifeye 10x Tweezing Mirror & Revlon Extra Curl Expert Eyelash Curler
Beauty Accessories Bundle: Revlon Crystal File, Revlon What A Catch Nail Clipper with Catcher, Essie Clinical Strength All in One Base Nail Treatment, Revlon Designer Collection Slant Tip Tweezer & Revlon Designer Nail Files
Some of these bundles are a better deal than others, but if you are not into waiting for sales and coupons on each, they are worth buying.  You do need to select a pickup location before ordering and they are not available for home delivery at this price.  Click here to order or to find a pickup location.