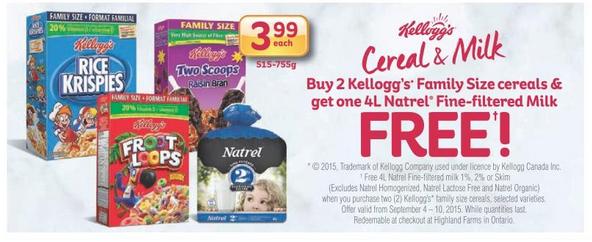 If you have a Highland Farms Ontario store near you, there is an excellent offer available to you this week. Until September the 10th, purchase two family size Kellogg's cereal products, and receive one 4L Natrel fine filtered milk product for free!
You have the choice of 1%, 2%, or skim milk, but unfortunately the offer does exclude homogenized, lactose free, and organic varieties of Natrel. The Kellogg's family size cereals are priced at $3.99 this week at Highland Farms, which is already a fairly good price for that size cereal, however, you may have coupons that would make this an even better deal. Have a look through your recent coupon inserts, and you will find a coupon for $1 off the purchase of any Kellogg's cereal product. If you happen to have two of them, for less than $6, you can get the two boxes of cereal and 4L of Natrel milk!
There is no coupon required for this offer, which is redeemable at checkout.
Click here to view the Highland Farms Ontario flyer ending September the 10th, 2015.