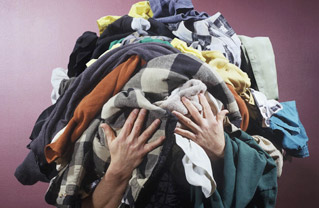 Visit a H&M stores and get a $5 off $30 coupon for each bag of used clothes you drop in the I: Collect recycling box next to the checkout counters.
The clothing will be sorted at a central recycling facility into four categories: second-hand clothes; textiles to be converted into other uses, such as cleaning cloths; textiles to be broken town and used for other purposes, such as insulation or the auto industry; and textiles to be used for energy.
So even if they are not 'donate-able' quality, they can still be used!  They don't have to be from H&M either, any label can be dropped off.  I had a pile sorted for the local thrift store but I think I will take it to the mall and get myself a coupon or two now.
Thanks for letting us know couponlady