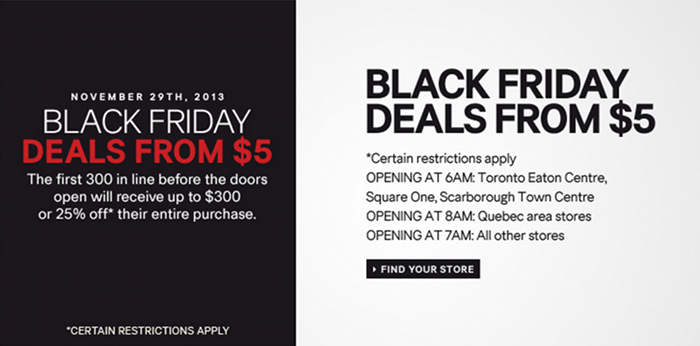 H&M Canada Black Friday 2013 Sale is out. On November 29th, 2013 you will want to be one of the customers waiting in line for H&M Canada  to open for their Black Friday Sale! The first 300 waiting in line this Canadian Black Friday, will receive a coupon that either entitles you to $300 or 25% off your purchase!
Also, In store offers from Black Friday, November 29th to December 1st, 2013 include:
Lady's Department Tops From $5
Lady's Department Pants from $9
Kid's Department Pants from $5
Men's Department Pants and Shirts from $9
H&M Canada Stores opening times on Black Friday:
6AM at: Toronto Eaton Centre, Square One, Scarborough Town Centre.
8AM at: Quebec area stores.
7AM at: All other stores.
Click here for details on this H&M Black Friday sale