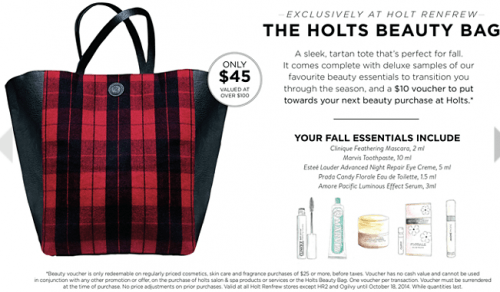 Holt Renfrew Canada is currently having their Fall Beauty Event!
This means that you can get their Holts Beauty Bag for only $45! This Holt Renfrew Beauty bag will contain 5 Fall Essential Samples as well. This bag and sample package is valued at a whopping $200 and you will only pay $45! This cute red Tartan Tote is sure to go with most outfits. You will also receive a gift card or promo code for $10 off your next purchase of $25 or more from Holt Renfrew Canada. This voucher will apply to regular priced skincare, cosmetics and fragrances only.
This offer ends October 18th, 2014 but if supplies run out sooner, so will this deal!