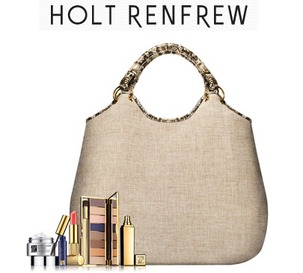 Holt Renfrew has an Estée Lauder gift with purchase on right now. This is valid Feb 19-28, 2010, or while quantities last, sorry I didn't read about it until now. You can get this free gift with any Estée Lauder purchase of $55 or more.
This Deluxe Spring Gift includes:
* Re-Nutriv Ultimate Lifting Creme:15ml ultra deluxe 14-day supply
* Estée Lauder Signature Hydra Lustre Lipstick: full size lipstick in Apricot Sun
* Exclusive Eyeshadow Compact: 8 Coordinating Shades including Mocha Cup, Sand Box, Honey Drop, Amethyst, Cinnamon, Copper Penny, Ginger Drop and Tea Biscuit
* Double Wear Zero-Smudge Lengthening Mascara: 10-day supply in Black
* Estée Lauder Sensuous Eau de Parfum in a golden atomizer
* Luxurious Fashion Tote
The eyeshadow palette looks like it has nice wearable colours and the bag is cute. For more information, check your local Holts.
Click here for more information!