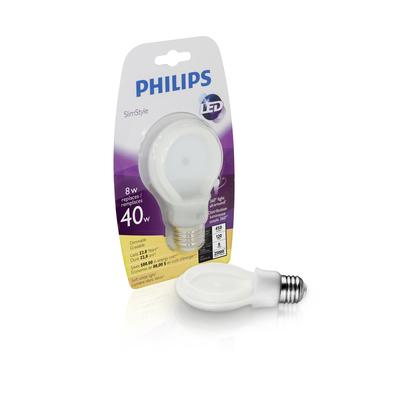 These LEDs are sold in-store only and are Energy Star Qualified. Originally priced at $9.00, these lights are fully dimmable and have a medium base. Furthermore, Philips Slim Style can be used in more applications than the traditional A19. Some of its best features include:
Innovative LED alternative to incandescent bulbs.
Energy-efficient replacement for 40W incandescent household bulb. 8W = 40W
Long life- lasts up to 25,000 hours or 22.8 years
360° light distribution Dimmable
Soft white light appearance- 2700K Brightness – 450 lumens
Fits easily into existing fixtures. Ideal for table lamps, floor lamps and wall sconces
There are a wide variety of styles on sale. They include the following:
8W A-Line SlimStyle Soft White
7W A-Line SlimStyle Daylight
10.5W A-Line SlimStyle Soft White
10.5W A-Line SlimStyle Daylight
Click here to take advantage of this limited-time offer.
Also, click here to get all The Home Depot Canada online offers.