Home Outfitters Canada is having a big in store sale until store close tonight where you can get a lot of great items for the home, bathroom, kitchen, bedroom and more up to 70% off. Not only is this a great time to stock up on items for your home, but for your kids student home as well! Save 50% on these GluckensteinHome Lux towels originally $12.99 – $39.99 on sale for $6.49 – $19.99. Other GluksteinHome items on sale including 50& off their gel fibre and down wrap pillows originally $54.99 on sale for $32.99, 60% on all Sleepolopgy com for and coolmac pillows originally $54.99 on sale for $21.99, 50% on all Charisma and Serta divers originally $149.99 – 399.99 on sale for $74.99 – $199.99 and ave 75% on all Home Studio 7 Piece Bedding sets!
Save 40% on all fans excluding Dyson starting at $8.99 – $59.99 (originally $14.99 – $99.99)
Save 40% on all Damask Stripe 50TC coordinate bedding and sheets starting at $17.99 – 107.99 (originally $29.99 – $179.99)
Buy 4, Get 1 Free on all Van Houtte, Stabucks, Keurig K-Cips and Starbucks Verismo Coffee/ Tea Pods!

Save 25% on all Cuisinart kitchen electrics
Save up to 50% on the kitchenAid hand mixer, immersion blender, 3.5 cup chef chopper originally $69.99 on sale for $39.99
Save 70% on all Lagostina and Jamie Oliver cookware sets originally $239.99 on sale for $95.99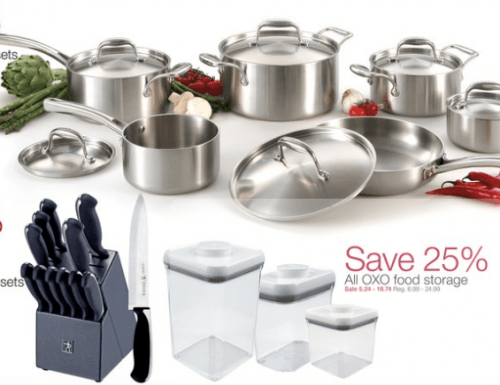 Offers expire when the stores close tonight.
Click here to browse what's in stores at Home Outfitters Canada