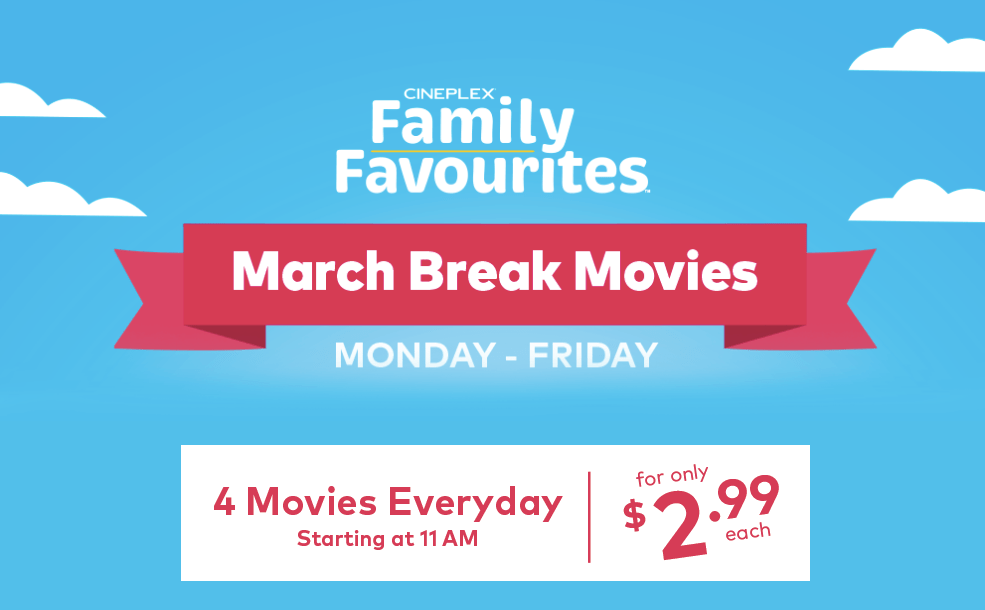 Now I may date myself when I say this, but I remember when you could go to the movies with just a crisp $5 bill in your pocket. Nowadays, that will barely put a dent in covering your jumbo-sized Coke or equally large bag of popcorn. That being said, there are a couple of hacks that can keep you and your family on the straight and narrow when it comes to saving at the movies. We've collected these tips into one list so that you can not only save money this March Break, but continue to save even after the kiddies are back at school.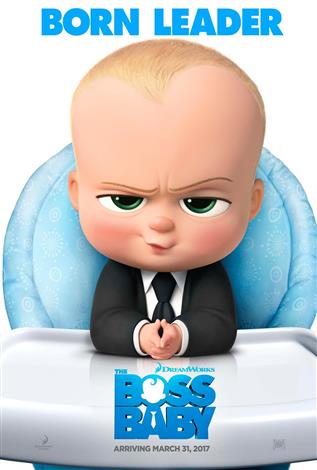 The first and probably best deal that you should cash-in on is the one from Cineplex Canada, where they are offering March Break movies from Monday through to Friday (dates will vary depending on your region) for just $2.99. This is the same awesome price that they offer their Family Favourites movies for each Saturday morning, which you can continue to take advantage of even after March Break!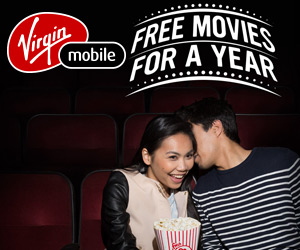 This one isn't necessarily a 'hack' but more of a throwing your name in the hat for a chance to win free movies for an entire year. Virgin Mobile is offering this contest for members through till January 27, 2019 and they will be drawing a new name to announce a new winner each week. Your chances are pretty slim, but hey, it's free movies so it's worth a shot at least?
If you're a CAA member and you live in Manitoba, then this offer can snag your two FREE movie vouchers when you refer a friend to CAA. This offer is only valid in some provinces throughout Canada, but if you're in Manitoba then you can refer a friend either by presenting the coupon in-person, online or over the phone. Not a bad deal for gaining two free movies, arguably valued at $20 or more!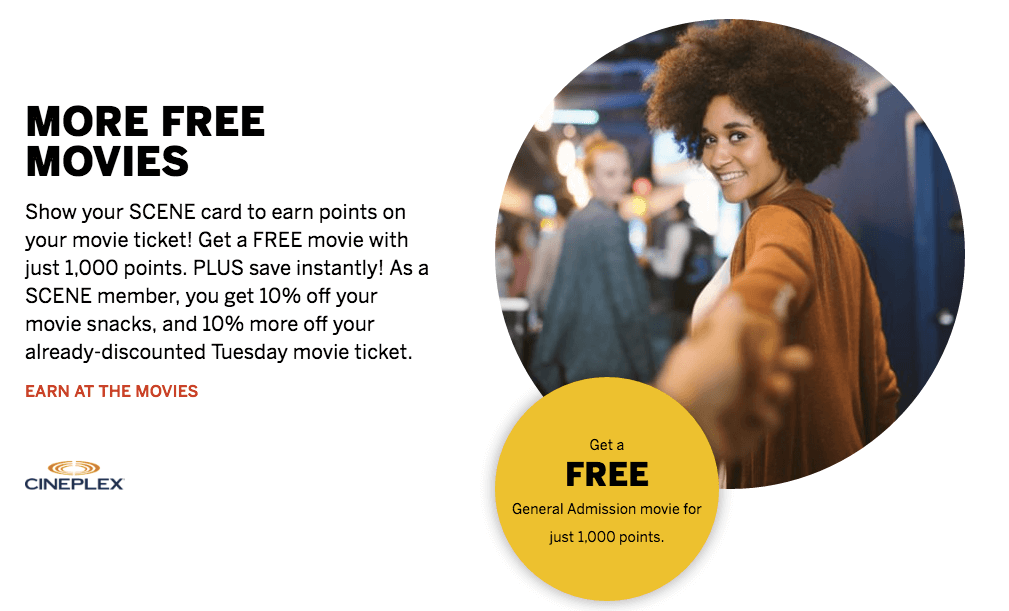 The SCENE Rewards program is one of the more consistent hacks to save on going to the movies, as it will save you 10% off on already-discounted cheap Tuesday movies plus 10% off on movie snacks. And with each movie purchase you make with your SCENE card, you'll be that much closer to receiving a FREE movie, as you only need to collect 1,000 SCENE points.
Members who are also Scotiabank members can even stand to save and earn a little more, as the Scotiabank SCENE Debit Card allows cardholders to actually earn SCENE points on debit purchases. The same applies for the SCENE Visa Card and with both cards you'll receive a registering bonus of 5,000 points for the debit card and 4,000 points for the Visa card.
Click here to see what movies are playing at Cineplex Canada.