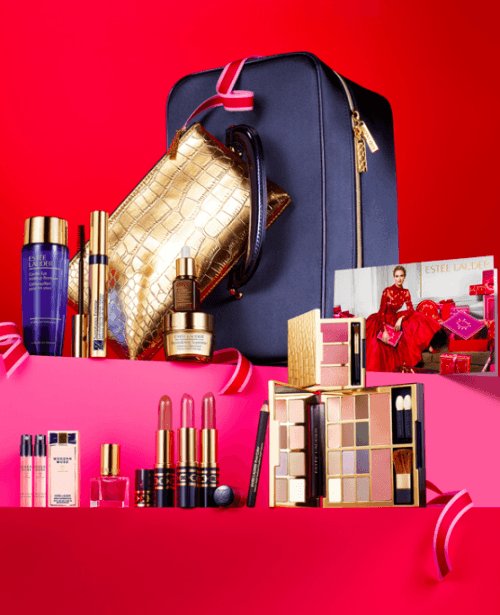 With the purchase of any Estee Lauder fragrance from Hudson's Bay Canada, you will qualify to buy the exclusive Holiday Collection set, valued at $325, from Estee Lauder for only $69.50! Quantities of the limited edition Luxe Colour Collection are not guaranteed to last during this limited time offer, so it would be best to buy earlier rather than later to ensure the best chances of getting all that is advertised in this set.
To make the most of your money, I would suggest purchasing this Estee Lauder 2 Piece Modern Muse Eau de Parfum Set, which is the cheapest fragrance set available at $32; plus it would make for an easily packaged gift with the convenient and stylish gift box included with your purchase. The total of your order would then be $101.50, for an assortment of fragrances and make-up valued at $357.
One of the many awesome products available in this set, is the offer of 3 full-size Estee Lauder long lasting lipsticks, available in the colours: Sugar Honey, Bois de Rose and Candy).
You will also receive this full-sized, 3.4 oz Gentle eye-makeup remover from Estee Lauder, which itself is valued at $20 and is one of the best eye-makeup removers on the market.
The full details of the set also include:
a Navy Satin Train Case, to hold all your goodies
a deluxe Eye and Cheek Palette that features the 12 best-selling Pure Colour EyeShadow shades: Sugar Cube, Sugar Biscuit, Riviera Rose, Ivory Slipper, Tempting Mocha, Lilac Whimsy, Hot Cinnamon, Nude Fresco, Wild Truffle, Amethyst Spark, Lavish Mink and Chocolate Bliss
plus, 2 of the best-selling Pure Colour Blush shades: Alluring Rose and Sensuous Rose
a lip gloss compact with three different shades
Pure Colour Intense Kajal Eyeliner in Blackened Black
a dark and smoky Pure Colour Nail Lacquer in Fallen Angel
Sumptuous Extreme Lash Multiplying Volume Mascara (also available in the full-size) in Extreme Black
for end of the day care, Advanced Night Repair Synchronized Recovery Complex II (deluxe travel size)
Revitalizing Supreme Global Anti-Aging Creme (deluxe travel size)
2 Modern Muse Eau de Parfum Travel Sprays (for when you can't take your bigger ones with you)
a Look Card
and a Gold Crocodile-embossed Cosmetic Case
While these are the products being advertised, Estee Lauder cannot guarantee that you will receive the specific colours for each item as limited quantities are available and the longer you wait the more likely they are to have sold out of certain colours.
Click here to begin shopping Estee Lauder fragrances at Hudson's Bay Canada to buy the Holiday Collection at the exclusive price of $69.50.