This is an incredible offer from the Hudson's Bay Canada where, for today only, you can pick up a twin bedding set, a twin duvet and 2 standard pillows for just $158.99. This is an amazing bundle, and it is also available in queen if you're looking for something to fit your more adult sized bed.
Plus, on top of this bundle offer, you can save up to 60% off on all other bedding and bath products at the Hudson's Bay Canada.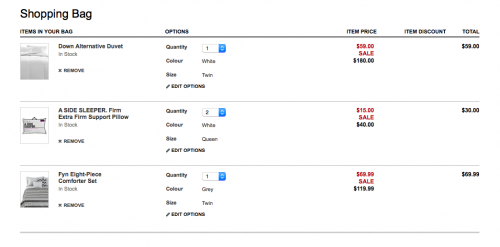 As you can see, this bundle offer is also available for queen size bedding, simply follow the same link but instead of selecting a twin size duvet/bedding set, opt for the queen size duvet and bedding set. The total will be slightly more, $217 to be exact, but normally this bundle for a queen size bed would cost $439.99. That means that you'd be saving over half off, $222.99 to be precise.
The Hudson's Bay offers FREE shipping on orders that are $45+ (or $29+ on beauty purchases) when you pay with your Hudson's Bay credit card, or $99+ (or $49+ on beauty purchases) when you pay with any other form of tender.
Click here to begin shopping at the Hudson's Bay Canada.