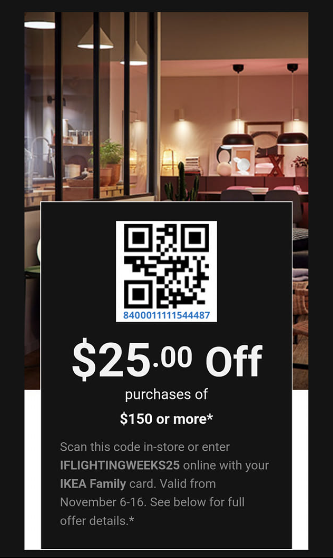 Until November the 16th, IKEA Family members can save $25 on purchases totaling $150 or more at IKEA Canada. This offer is valid both in-store and online.
To receive your discount in-store, you will need the coupon and your IKEA Family member card at checkout. The offer can be redeemed only once per IKEA Family member card. To redeem the offer online, you will need to enter your IKEA Family card number and use the code IFLIGHTINGWEEKS25 during checkout.
If you are not an IKEA Family member you can sign up for free through the link below. Here are some of the benefits you will receive with an IKEA Family card:
Exclusive Newsletter + SMS Alerts
Member-Only Discounts (watch for blue IKEA Family labels in-store and online)
Bonus Meal (Buy 10 meals in the IKEA restaurant and get one free)
Free workshops and events
Sell back your IKEA items
Free regular coffee or tea
As-is (Circular Hub) Online Marketplace
Community Projects
Free 14-Day Breakage Program
Purchase History
Monthly $100 gift card contest
30 extra minutes in Smaland
Click here to become an IKEA Family member or to find a location near you.