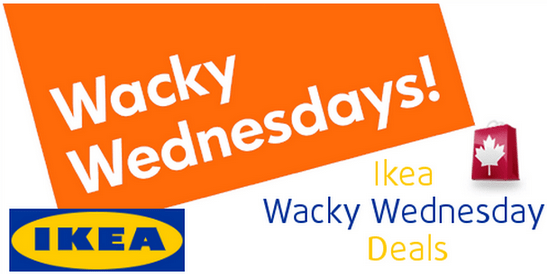 IKEA Boucherville:
SULTAN FÅVANG High-resilience foam mattress, was $249, now $199
IKEA Burlington:
SUNDVIK Bed frame with slatted bed base, black-brown, was $134, now $84
FRÄJEN Washcloth, was $1.99, now $0.75
IKEA Calgary:
LEDING Ceiling track, 3 spotlights, was $18.99, now $5.49
ÅRYD Block candle holder, was $19.99, now $3.99
IKEA Coquitlam:
PAX BIRKELAND Door 50×195, was $100, now $49
MANDEL Plant pot, was $3.99, now $0.99
IKEA Etobicoke:
GIRIG serving bowl, yello, was $19.99, now $7.99
BASISK wall/clamp spotlight, was $16.99, now $9.99
IKEA Edmonton:
None showing yet
Haddock & chip on Wednesday after 11 am Reg. $6.99, for $2.99
IKEA Montreal:
IKEA North York:
LIMHAMN Shelving unit, was $79.99, now $29.99
EKBY KARL Shelf, was $19.99, now $4.99
SKAGERN Bathroom mat, was $9.99, now $3.99
IKEA Ottawa:
TRAL floor lamp, was $29.99, now $9.99. Limited to stock on-hand, no rainchecks
IKEA Richmond:
None showing yet, as usual!
IKEA Vaughan:
BÄLUM Rug, high pile, was $199, now $99
IKEA Winnipeg:
Click here to choose your local IKEA and see all deals.