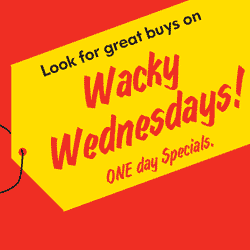 Every Wednesday, a few IKEA branches in Canada have a one day product special at a wacky price! The prices are usually extremely good (about 75% off) to the point where the product on sale becomes out of stock in a few hours.
The IKEA branches that have a Wacky Wednesdays sale are:
IKEA Burlington
IKEA Edmonton
IKEA Etobicoke
IKEA North York
IKEA Vaughan
Every branch has a different Wacky Wednesdays sale
Check IKEA's website very early on Wednesday and if you're interested in their deal make sure you visit your IKEA branch early in the morning.