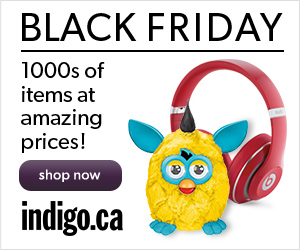 Indigo Chapters  is celebrating Black Friday with "1000s of Great Items at Amazing Prices." Some of the Indigo Chapters Black Friday deals include:
To make your Black Friday even sweeter, save an extra $5 when you spend $100 and save extra $10 when you spend $150 or more site-wide, plus get free shipping! Enter promo code BLACKFRIDAY at checkout.
Hurry before Indigo Chapters sell out! The Black Friday sale starts now and ends at 3:00 AM EST on Monday, December 2, 2013.