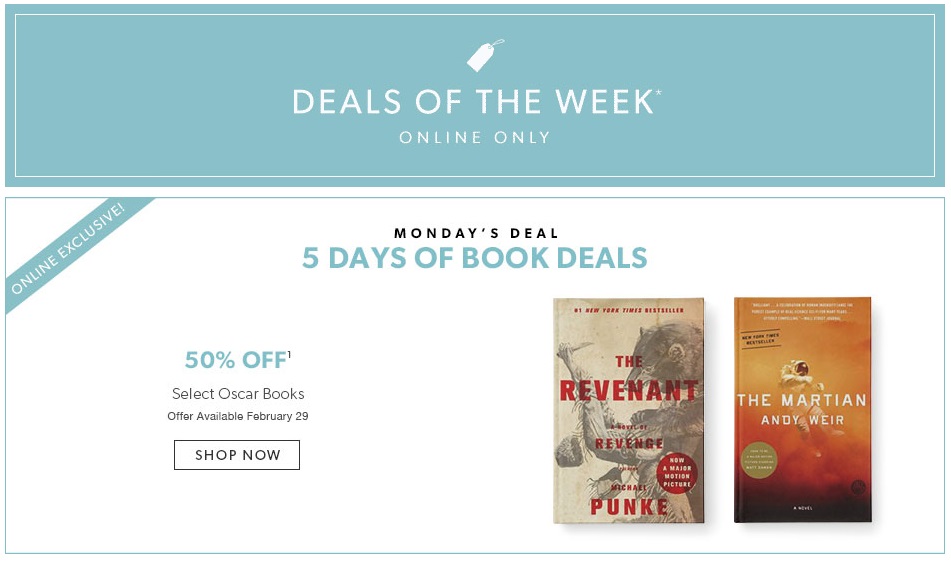 Did you catch the Oscars yesterday? Shop Indigo's deal of the day for today, February 29, 2016, and compare the movie with the actual book, and see which one you enjoy more. Shop Indigo February 29, 2016 online, and you can save 50% off select Oscar books.
Oscar books include:
The Revenant: A Novel of Revenge by Michael Punke now $9.25 ( List price $18.50)
The Martian: A Novel by Andy Weir now $9 ( List price $18)
Carol by Patricia Highsmith now$9.75 ( List price $19.50)
Room by Emma Donoghue now $9.99 ( List price $19.99)
The Big Short: Inside the Doomsday Machine by Michael Lewis now $9.47 ( List price $18.95)
Strangers on a Bridge: The Case of Colonel Abel and Francis Gary Powers by James Donovan now $10.50 ( List price $21)
You should also check out Indigo's Weekly deals, where you can save up to 40% off on some of March's most anticipated books, such as the new Harry Potter, which you can pre-order now for just $29.99 (25% off regular price)! Indigo's weekly deals are only available online, and while quantities last. Prices shown online reflect sale price.
Deals available from Indigo online include:
Ending March 6
The Happiness Equation by Neil Pasricha now $17.50 (50% off regular price $35)
20% off diaper bags and accessories
Google OnHub AC1900 wireless dual band router now $199.95 ($70 off regular price of $269.95)
$10 off Yurbuds 200 series earbuds
20% off Yurbuds Inspire 100 series
Ending March 7
Up to 40% off March's most anticipated books
Ending March 31
While quantities last:
Select books for kids and teens $5 and under
Great reads $10 and under
Great cookbooks $10 and under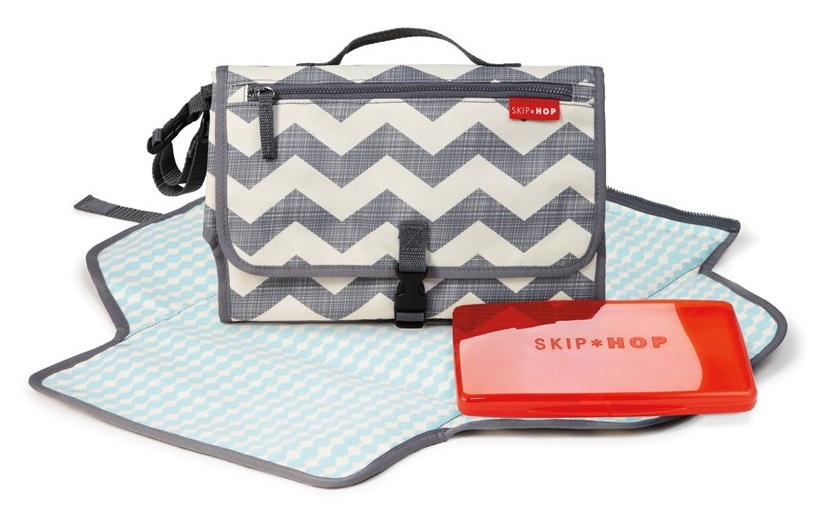 This Pronto changing station in chevron is a portable diapering kit contains all the essentials for a quick change on the go. Its extra-wide changing pad wipes clean, while an innovative head cushion keeps baby safe and comfy. The pad removes so you can use the clutch on its own. A see-through wipes case, a mesh pocket that holds up to four large diapers and ointments, and a front zippered pocket for personal items are smart finishing touches details. Now just $29.60 (regular price $37)!