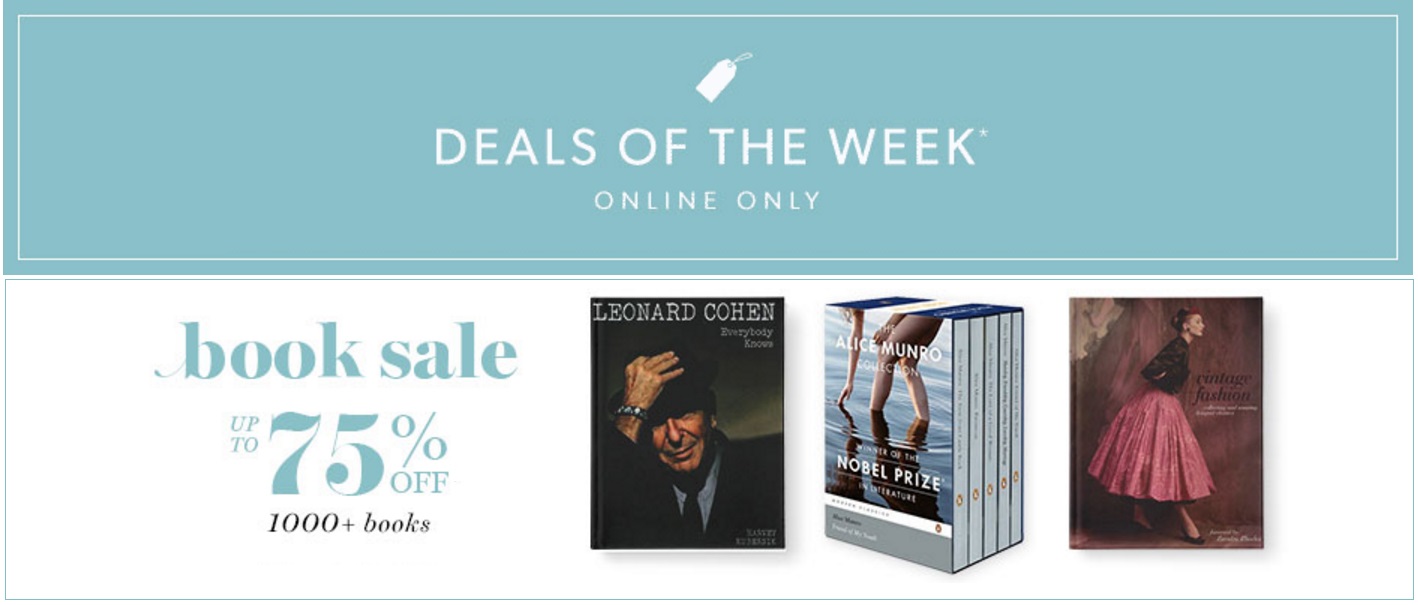 Have you checked out Indigo's Deals of the Week lately? If you haven't you should, especially those who, like me, still would rather prefer the actual feel of a book, rather than reading a digital version! Now until March 16, 2016, you can save up 75% off over 1000's of books, when you shop Indigo's book sale online. Some titles are even 94% off! Prices shown online reflect sale price.
Some featured titles from this sale include:
 Alice Munro Collection by Alice Munro fnow $12 (List price $50)
Leonard Cohen Everybody Knows by Harvey Kubernik now $8 (List price $35)
Vintage Fashion by Carlton Books now $4 (List price $24.95)
The Fashion Book: New and Expanded Edition by Editors of Phaidaon now $12 (List price $59.95)
Saturday Night Live: The Book by Alison Castle now $20 (List price $72.50)
Kurt Cobain: Montage of Heck by Moegen/Bienstock now $12 (List price $30)
Audrey Hepburn by Bob Willoughby now $12(List price $69.99)
Marilyn Monroe: The Personal Archives by Carlton Books now $4 (List price $34.95)
Mario Testino: Private View by Mario Testino now $4 (List price $73.50)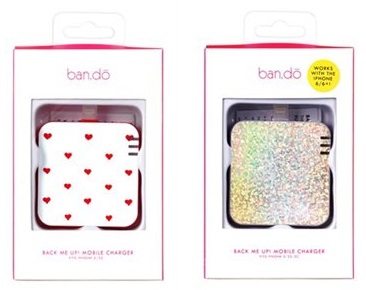 Not a book person? Here's another deal you might like. Shop Indigo's Deals of the Week online, now until February 28, 2016, and you can get these Ban.Do Battery Packs for just $12.50 (50% off the regular price of $25). These batter packs can fit iphone 5/5s/5c/6/6 plus, harges with a USB 2.0 connection lightning to USB, charges up to 80% power, has a 8-pin lightning port, and includes a charging cable.
Other deals available from Indigo online include:
Ending February 28:
20% off Star Wars headphones and speakers (Starting $19.96 to $31.96)
25% off iHome portable iDM8BC bluetooth speaker (Now $29.68)
Buy 1, get 1 free 6 oz Kinetic sand (2 for $9.95)
Ending March 14:
My Secret Mother for only $10 (regular $16.99)
While quantities last:
$24 for Essential woven scarves (now 40% off, regular price $40)
30% off select Jenny Bird Jewellery
Select books for kids and teens $5 and under
Great reads $10 and under
Great cookbooks $10 and under
Indigo Chapters Canada offers FREE shipping on orders over $25.
Click here to shop Indigo Chapters Canada Deals of the Week.