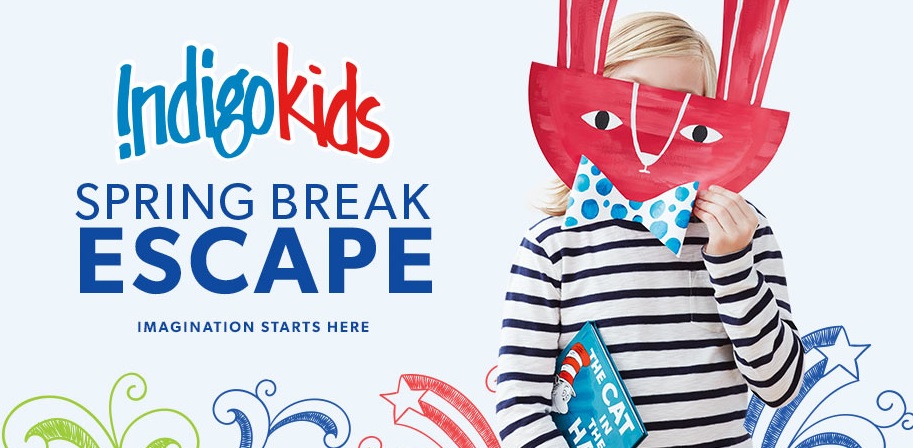 Spring Break is coming up soon! Not sure what to do with the kids? Sign up for some of Indigo's and Chapters' kids Spring Break activities. During March 21, 2016 until March 25, 2016 at 11 am, participating Indigo stores will be holding different daily events for your kids to have fun, each day features a different activity, and these activities are FREE! Contact your local store to sign up now, and you won't have to worry about your kids being bored at home!
Here is a list of scheduled activities:
Monday, March 21: Ultimate Play – Hands on fun for all ages
Tuesday, March 22: What Pet Should I Get? – Make your own plush puppy, and have a barking good time!
Wednesday, March 23: Lego Brick Break – Make and take building activity and join the Minifigures Swapathon
Thursday, March 24: Calling All Superheroes – Design your own superhero mask and join the costume parade!
Friday, March 25: DIY Kids – Channel your inner creativity with stencil art and mess-free glitter!
Dates may vary at different locations, while quantities last for all activities, and only at participating locations.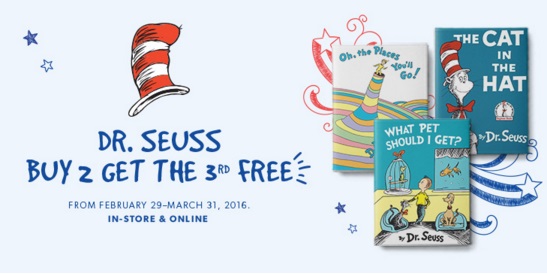 Another amazing deal being offered by Indigo right now, is their "Dr. Seuss, Buy 2, Get the 3rd FREE" deal. Shop online or in-stores and you can purchase 2 Dr. Seuss books, and get a 3rd book for FREE! This deal is on now, until March 31, 2016. Some Dr. Seuss books are now up to 11% off, shop this deal and pick up all your favourite classic Dr. Seuss books!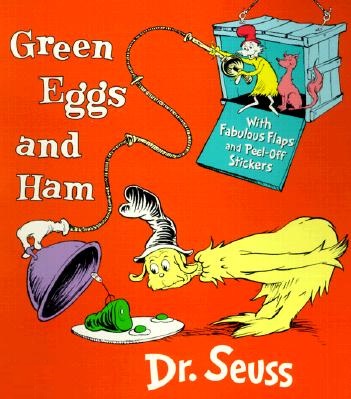 Do you like green eggs and ham? If so, you'll love them with flaps and stickers! Flip the flaps to see where those green eggs and ham will pop up next! All the fun and charm of the original book is here in this interactive version of Dr. Seuss's classic Green Eggs and Ham! This book is now 11% off, for just $9.78!
Indigo offers free shipping on orders over $25.
Click here to shop Dr. Seuss books from Indigo.
Click here to contact your local store to sign up for FREE Spring Break activities.