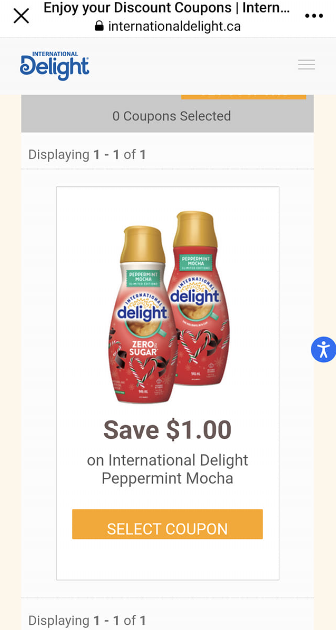 Tomorrow is December 1st, and that means if you are hanging on to any Pumpkin Spice Internation Delight you must immediately dispose of it and replace it with the Peppermint Mocha! There's even a new $1 printable coupon for you to help you save as you transition to Christmas-y coffee whitener.
Click the link below and you can print this new coupon for $1 off the purchase of International Delight Peppermint Mocha. It comes in both the original and Zero Sugar formats, but only in the 946ml size. You may print one of this coupon, and you might be able to get prints using different browsers, but this particular type of printable coupon is very difficult when it comes to multiples. The expiry date is typically about month from when it was printed.
If you are heading to No Frills this evening it is on sale for $3.99 until they close. It's $4.57 at Giant Tiger, and if they don't have this variety, use their ad to price match at Superstore.
Click here to print your coupon for $1 off the purchase of Peppermint Mocha International Delight.