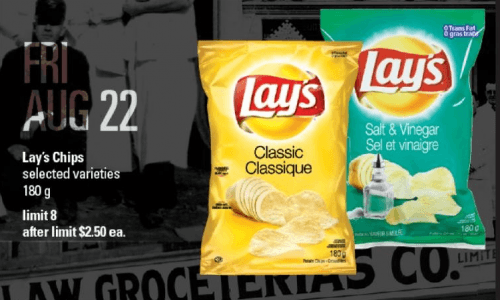 Happy birthday to you, happy birthday to youuuu, happy birthday to Loblaws Canada! Happy birthday to you! To celebrate Loblaw's 95th birthday, they're offering you big birthday promotions all week long until August 28th! TODAY, you can get selected varieties of lays chips for $0.95 each (limit 8) and then after, they will be $2.50 each.
Deals on this week:
Saturday, August 23rd: selected varieties of Christie Oreo or Chips Ahoy cookies for $2.50 each (limit 8)
Sunday, August 24th: SAve $0.54 on selected varieties of Fresh Pork or Turkey Sausage
Monday, August 25th: Save $2.04 on secret base antiperspirant or Herbal Essences shampoo, conditioner or styling products
Tuesday, August 26th: Save $1.34 on Old Mill English Muffins (White or whole wheat – package of 6)
Wednesday, August 27th: Get Royal Gala Apples for $2.09/ kg
Thursday, August 28th: Get Red Seedless Grapes for $2.09/kg
Offer expires on August 28th.
Click here to browse other great deals available at Loblaws Canada