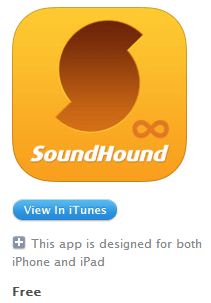 Right now the SoundHound app is free for all iOS devices through iTunes!
The SoundHound application will recognize what music is playing around you. All you have to do is tap the SoundHound button within the SoundHound iOS application to identify songs instantly! Once the song is identified, you will be able to share the song through social media, see lyrics, buy or explore more songs from that artist.
SoundHound has even gone so far as to allow you to search for songs by humming the song into the SoundHound app. This is perfect for those songs you can't remember the name of or the words to! There is no expiration date on this offer so get it while it lasts!