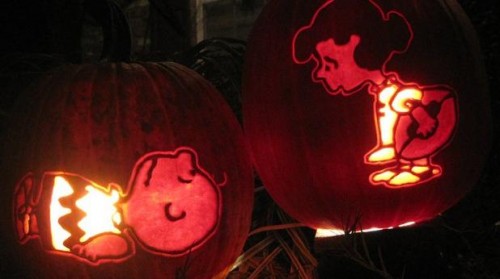 This is the weekend we, like many Canadians, are going to carve our pumpkin.  It's always a fun adventure with the kids as they really enjoy scooping out the insides and picking out the seeds.  We do roast some seeds every year but I'm the only who usually eats them.
The last couple years we have been trying to branch out on our jack-o-lantern design.
I grew up with your traditional looking jack-o-lantern so we find it quite fun to try to think of different ways to make our pumpkin look.  We are by no means "artists"  but we make a modest effort and I must admit last year it turned out quite well.  My oldest wanted hers to look like a cat and I tried my best  to oblige.   In the end it turned out too look like a pretty good cat complete with ears and cat like eyes.
Our youngest opted for almost a more traditional jack-o-lantern but with a "angry monster mouth" which again I did my best to provide.
Carving our pumpkins is always an afternoon of family fun.  We get quality time together and memories to last for forever.
Here are my steps for picking a good pumpkin:
Pick an appropriate shaped pumpkin.  The shape of your pumpkin should match the shape of the design you have in mind
our pumpkin should sit flat without rolling away or to its side.
Make sure the pumpkin's skin is free from scratches, cuts and abrasions.
Check your pumpkin for soft spots and make sure the stem does not pull free.  These are signs that the pumpkin has started to rot.
Here are some links to sites that have templates for jack-o-laterns:
How do you carve your pumpkins?  What's the most extreme pumpkin you've ever carved or seen?