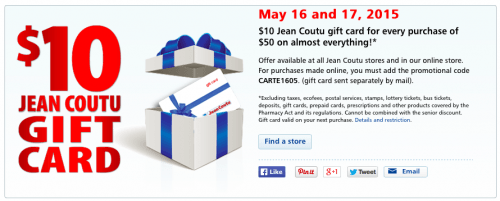 For those of you who live nearby a Jean Coutu Canada pharmacy, or even those of you who like to shop on their online store, you have a chance to receive a free $10 gift card with every purchase of $50 or more. Jean Coutu will be giving away these $10 gift cards from May 16th until May 17th, and for those of you shopping online you will be required to enter the promo code, CARTE1605, to have your gift card sent to you.
The only products that you cannot use to meet your qualifying $50 minimum are:
taxes
ecofees
postal services
stamps
lottery tickets
bus tickets
deposits
gift cards
prepaid cards
or prescriptions
Click here to learn more about the Jean Coutu $10 gift card offer.