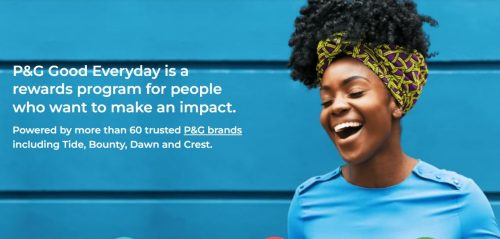 If you are purchasing any P&G products, make sure that you are getting rewarded for those purchases by signing up for the P&G Good Everyday rewards program.
To sign up, you can click the link below and start earning! Just for signing up you will receive 25 points and a donation. There are several surveys that you can take for 25 points each plus a donation, and you can also scan your receipts to earn 50 points for every P&G product purchased, plus a donation. There is a maximum of five products per receipt for which you will be rewarded, so if you are stocking up on something you might want to break up your purchases.
You can redeem your points for rewards once you have accrued enough, and these rewards come and go but are often restocked. Common rewards are $5 Walmart gift cards and $5 Starbucks gift cards, which you can obtain by redeeming 750 points.
Click here to register for P&G Good Everyday!