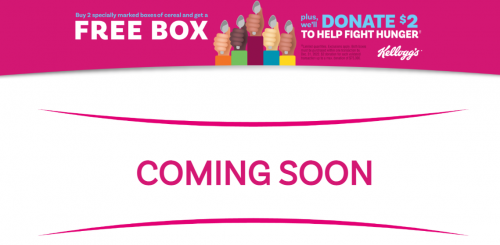 The Kellogg's Canada Free And Give promotion is returning soon! Purchase two specially marked boxes of Kellogg's cereal and upload your receipt for a free coupon for a box of Kellogg's cereal. The promotion will begin on October the 6th, and if you have already purchased the cereal you may hold on to your receipts until that date and upload them then.
Both qualifying boxes must be purchased in one transaction before December the 31st, 2022. There is a limit of five submissions per household, and a total of 30,000 coupons are available for the promotion. Once you have submitted your receipt, you can expect your coupon to arrive by mail within 3-5 weeks.
You are able to do multiple submissions on one receipt. If you purchase six boxes of cereal you will qualify for three coupons. Here are the participating cereals for the promotion this time around:
Kellogg's Corn Flakes* Cereal – 600 g
Kellogg's* Corn Pops* Cereal – 515 g
Kellogg's* Mini-Wheats* Brown Sugar Flavour Cereal – 650 g
Kellogg's* Mini-Wheats* Original Cereal – 650 g
Kellogg's* Special K* Vanilla Almond Cereal – 570 g
Kellogg's Two Scoops* Raisin Bran Cereal – 755 g
Kellogg's* Rice Krispies* Cereal – 560 g
Click here to submit your receipts beginning October the 6th!