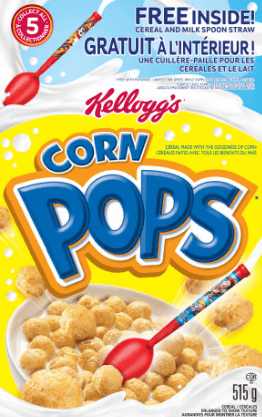 It has certainly been a while since I have seen a free item actually IN the box of cereal. It seems like there have only been coupons and mail in rebates and PINS for years. This new Kellogg's promotion has broken this trend with a fun new freebie, actually found right inside the box.
For a limited time, pick up a specially marked box of Kellogg's cereal, and inside you will find a cereal and milk spoon straw! Yes, it is both a spoon and straw, so that you can eat and cereal and then drink the milk from the bowl. There are five different cereal and spoon straws available, all featuring different Kellogg's characters. The spoon straws are randomly inserted, so yes, you may have to buy 100 boxes to collect them all.
The approximate retail value of the spoon is $3.50, and the offer is only available while supplies last.
Click here to visit Kellogg's Canada for more information and promotions.