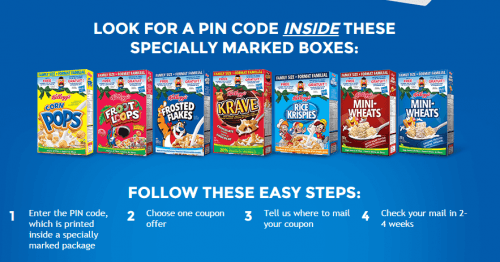 Kellogg's Canada has a Fun, Fun, FUN! new offer available for you and your kiddos to enjoy.
For a limited time, you can get a FREE Hasbro Toy or Game valued at up to $20 by entering a PIN Code! There are limited quantities of this FREE Toy or Game coupon available. There are also coupons available for $10 off the purchase of a Hasbro Toy or Game that is valued at $25 or more.
How do you take advantage of this offer, you ask? SIMPLE! Just look for a PIN code inside the Specially Marked Boxes of Mini Wheats, Rice Krispies, Krave, Frosted Flakes, Fruit Loops, and Corn Pops! Then you will take that PIN code and enter it in the link provided below to choose one coupon offer. Then you will have to enter your email, and you will receive the offer in your email inbox. Don't forget to check your junk folder just in case! It will take 2-4 weeks to receive your offer via email.
There are only 25,000 coupons available for $20 off and 75,000 coupons available for $10 off. All of the PIN Codes must be entered no later than February 14th, 2015 and the coupon will expire on March 31st,, 2015. Complete this offer now and maybe you will receive your coupon in time to finish up some Christmas shopping!
Click here to check out this Kellogg's Canada Offer.