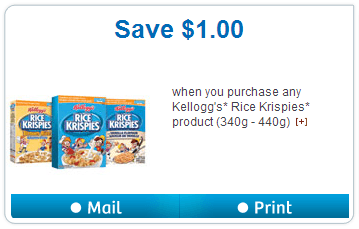 Kellogg's has a new printable coupon available through WebSaver.ca!
You can Save $1.00 when you purchase any Kellogg's Rice Krispies product (340g-440g) by either printing the printable coupon in the link below, or having it mailed to your home address.
There are two older coupons available as well:
Save $1.50 on Kellogg's Crispix Krispies.
Save $1.50 with the purchase of any Kellogg's Frosted Flakes, Kellogg's Krave, Froot Loops, Rice Krispies or Corn Pops.
These last two coupons are available to receive in the mail only.