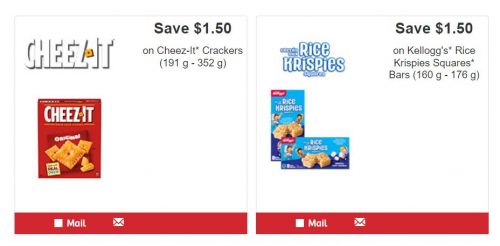 A new month brings new Kellogg's coupon available through the Kellogg's Shop & Save coupon portal. There are no cereal coupons in this latest batch however, so if that is what you were hoping for you are out of luck. There are plenty of coupons for Kellogg's snacks and cereal bars though. Here is the list of coupons that you can either print, load to your WebSaver wallet, or have mailed out to you:
Save $1.50 on the purchase of Cheez-It Crackers 191-352g
Save $1.50 on Kellogg's Rice Krispies Squares Bars 160-176g
Save $1.50 when you buy any one 8x300ml Coca-Cola beverages and Cheez-It products 213-352g
Save 50 cents on Pringles potato chip 148-203g
Save $3 when you buy 2 Special K Bars 125-180g
Save $1 on the purchase of Pringles Snack Stacks potato chips 12x19g
Save $1 on Kellogg's Nutrigrain Bars 295g
Save $1 on Kellogg's Pop Tarts 384-400g
Save $1 on Kellogg's Eggo French Toaster Sticks 270g
Save $1 on Kellogg's Eggo Waffles and Pancakes 280-330g
Save $1 on Cheez-It Snap'd Crackers 213g
You will need an account to get the coupons, so you can register first if you do not already have a Kellogg's account.
Click here to get your Kellogg's coupons.